About Us
*SUMMER 2022*


*We are now official supplier for Deptford Green school*
This is a brief advice guide for customers who plan to visit White Hall Clothiers Camberwell this Summer 2022.
*From Monday 8th August appointments are no longer required*

- One parent and child if possible
- Monday to Friday at 10am is the best time to come (Saturday is the busiest day)
- Your child will try everything on then you can pay and take it away
- A full actual fitting which takes 20 minutes
- If the weather allows, clothes which are easy to change out of in the changing room are better and less layers
Any purchases can be returned for exchange of sizes or refund as long as the garments have their original labels and packaging in place with your original shop receipt.
Good luck and hope to see you soon.
Stay safe,
Mark and the team at WHC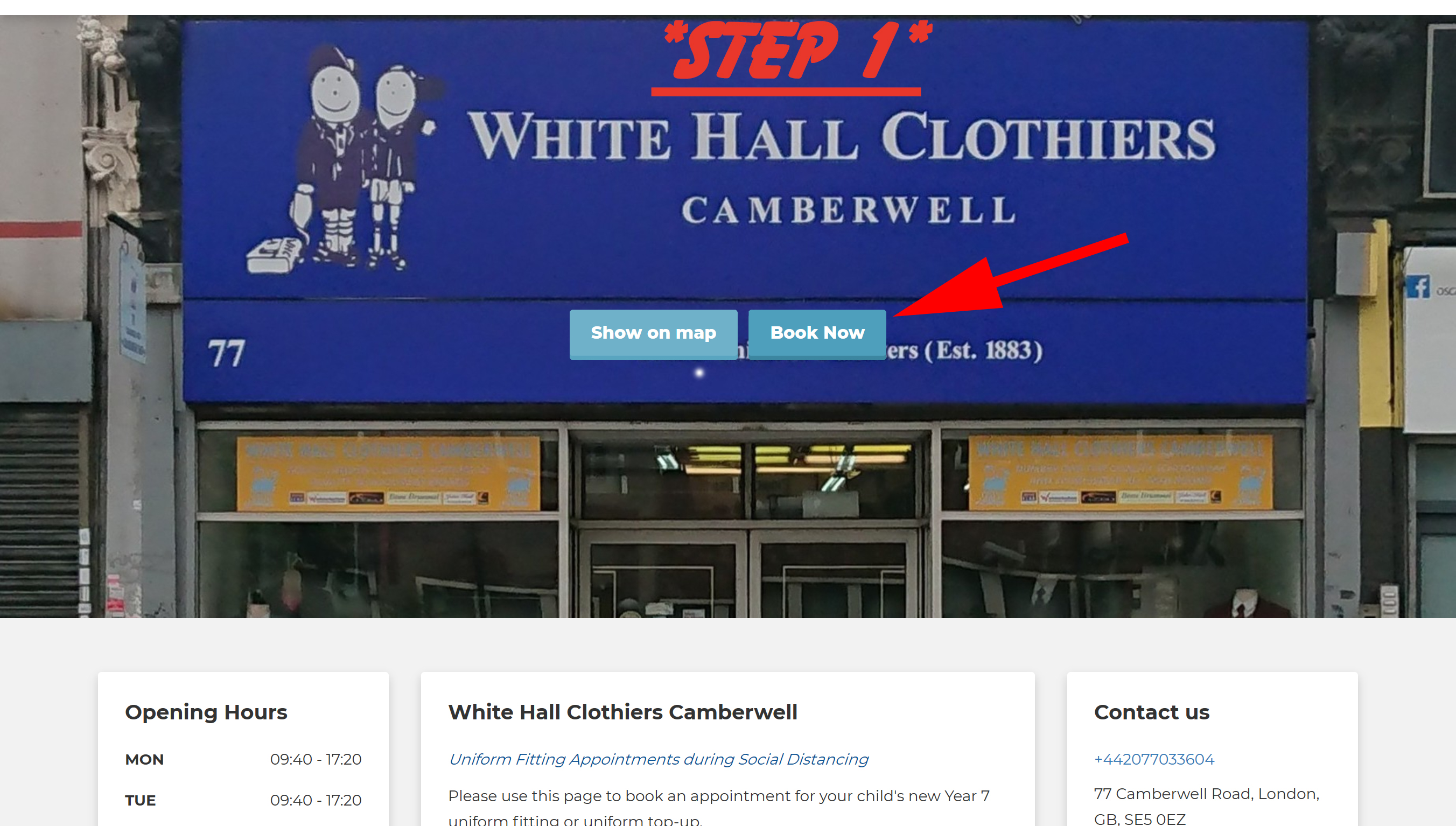 White Hall Clothiers have been supplying school uniforms since the turn of the last century. In the 1930's–1950's the company had shops in Exeter, Battersea, Chingford, Penge, Upton Park, Bermondsey and Camberwell.
Over the past 40 years our Camberwell shop (www.whitehallclothiers.com) has become a dedicated school outfitter to the London Boroughs of Southwark, Lambeth, Wandsworth and Westminster.
All our uniforms are available from stock all year round. Top quality schoolwear at reasonable prices, established schoolwear brands, Trutex, Banner, Beau Brummel, David Luke, Distinctive Clothing, Stag, Gymphlex, Pro Star, John Hall, William Turner and many others.
Our Current Management Team has been in place since 1971, our Experienced, Knowledgeable friendly staff offering sensible advice to customers, plus the all-important one to one service that is fast disappearing in the shopping centres and the high street.
Hope to see you soon.
Will & The Team
PS: Check out our "Shopping The Easy Way" Page on the website.
So to summarise our Introduction:
Established School Uniform Supplier
All Year round stock service
Good Quality reliable tested schoolwear brands
Sensible pricing, value for money
Knowledgeable and helpful staff
One–to–one Service
Schoolwear Shopping ''The Easy Way''
This is a brief advice guide for parents and students who plan to visit White Hall Clothiers Camberwell this Summer 2022. All schoolwear shops are busy during July, August and September, we like to advise our customers of shopping patterns and ways to shop at White Hall Clothiers Camberwell.
Firstly we advise that all new Year 7 pupils visit our shop for a size fitting, this is important, many parents attempt to purchase their childs complete school uniform with out bringing their child to the shop for fitting, this often takes longer to serve and accommodate than an actual fitting which takes 15-20 minutes
The Quietest time in our Camberwell Shop is in the Mornings 9.30am to 12.00 Noon - lunch times and afternoons especially at the weekends are much busier. When planning your visit try not to shop in large groups. Many customers visit the shop in groups of 5-10 people and often with a pram or bike, although we have a fairly large shop the extra people cause ''traffic problems'' in the shop during August and September.
Alternatively you can have the ''The Early Fitting'', we advise parents to fit their child's uniform early. Come along to our shop between June 13th - August 10th 2022. Your child will try on all your requirements. We will list your child's sizes and prices for you - then when you return to the shop at a later date with your requirements list there will be little or no delay during the busy ''back to school'' period.
So you have shopped early taken away your Childs uniform home via cash, Debit or Credit card payment etc and just before school starts your child has grown or you have decided to emigrate to Australia – Don't worry all you have to do is return your purchase to our shop with the original label and packaging and with your receipt and we shall exchange sizes or make a full refund.
So a brief re-cap: - Visit our Shop for fitting in June, July or Early August in a Small group allow 20 minutes for fitting, our early fitting system or indeed preferred credit or debit card or cash.
Any purchases can be returned for exchange of sizes or refund as long as garment have original labels and packaging in place with your original shop receipt. Back to school refund can be made until October 10 thereafter 30 days after purchase. Good Luck and hope to see you soon.
Uniform/Sportswear Price Lists by Camberwell shop only
Camberwell Shop
Tel: 0207 703 3604
Opening Times:
Monday to Saturday: 9:15am to 5.30pm
Closed Sundays
Open Bank Holiday Monday 29th August 2022
11.00am to 4.00pm


Academies, Colleges, Schools by Camberwell Shop Only
White Hall Clothiers Camberwell
Shop Opening Hours
77 Camberwell Road
London, SE5 0EZ
United Kingdom
Phone: 020 7703 3604
Email: will@whitehallclothiers.co.uk
Monday to Saturday 9.15am to 5.30pm
White Hall Clothiers Camberwell
77 Camberwell Road
London
SE5 0EZ
Open Monday to Saturday 9.15am to 5.30pm
Telephone: 020 7703 3604